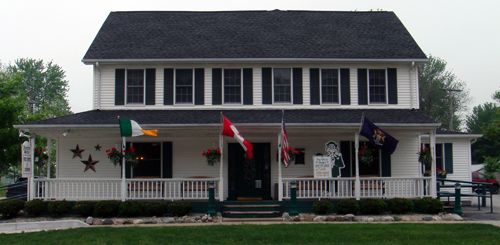 Murphy Inn is located in the river city of St Clair at 505 Clinton. The historical Murphy Inn is a totally restored 1836 boarding house and one of the oldest operating inns in Michigan There are seven vintage guest rooms featuring antiques, and private baths. At one time riverboats from Detroit used to deposit horses at the hotel to be sold at auction.
Stop in and check out the count down to St. Patrick's Day clock. Enjoy the pub atmosphere or the dining room which both offer a divers menu. The offering include the best pizza, burgers, ribs, steak and fish. There are great daily specials such as All U can Eat Pasta, Chicken, or Fish and Chips. Karaoke is every Wednesday and Saturday from 9 pm to 1 am. Murphy Inn hosts live entertainment each Thursday and Friday from 8 pm to midnight. Wireless Internet is available on site. 
According to local legends the Murphy Inn is haunted. Stop in and ask the staff, who will be glad to fill you in on all of the scary details!
The historic Murphy Inn is located in the scenic river town of St. Clair. Opened in 1836, before Michigan became a state, it stands as one of Michigan's oldest inns. 
It first started as the Farmers Home, then on to become Scheaffer Inn and finally the Murphy Inn. Always known for its hospitality and comfort.
Today the Murphy Inn has all of the modern amenities with an Irish pub complete with dance floor and charming dining room with a fireplace to add warmth and beauty. The seven guest rooms upstairs are finished in antiques and touches of old world charm. 
Each room is individual but all having private bathrooms. Staying at Murphy Inn will take you back in time.
(Click the image of the article to view in full size)